• art • art and fun • art and wine • art-making • artist in residence • Be Original. Buy Original. • bozeman • Dear Universe • Get out • goals • inspiration • Made in MT • McGree • Monument Valley • MT • Night Out • own it • paint • party • quotes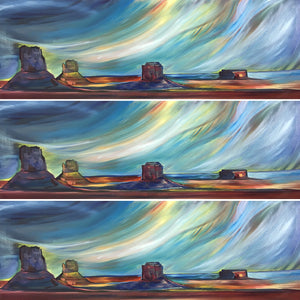 "If you have good thoughts, they will shine out of your face like sunbeams and you will always look lovely."  -Ronald Dahl Another FULL week! The grass is greener, the trees are sprouting!  We are all celebrating the start of a beautiful, warm, spring in Bozeman, MT!  :) :) :)  I can't wait to get outside to paint!  I am almost set-up, so expect some paintings en plein air next blog! This past week I started a few new paintings, finished one Monument, and had a great time collaborating with students at Hawthorne Elementary to paint their Cornhole boards for...
---
• bozeman • Flow • inspiration • Monday • MT • quotes • slow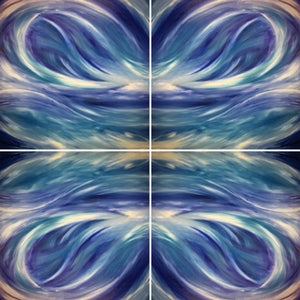 Monday Morning! New Week, New Artwork is evolving! This past week I returned from the amazing beaches of Hawaii to a beautiful, albeit chillier Montana Spring. Back to the studio and my "Dear Universe" series of paintings... My first markings on this painting, "Dear Universe, THANK YOU..."  There is so much to be thankful for and it is so nice to pause to do so. This BLUE inspired ocean scene filled with gratitude is starting to come together. I'm dreaming of the ocean waves and the warm, salty waters of Kauai where I was sitting at this moment one week...
---
    Ease of Day Oil on Canvas 36x24x1.5 gallery wrap $1500 Prints available as well.   It is gift to be alive.  To experience in the present moment all of the rich colors the world has to offer for our one trip through this life. Too often we look to something outside of ourselves for our spark...but I think it could be within us all along. Dream Hope Find Peace where you can... Hold onto your destiny, it is in fact YOURS. xo A  
---
Sunset Storms 24x24  $1000 Oil on canvas Prints available
---
• adventure • bozeman • MT • paint • quotes • run • Sky
New Week, New Artwork AND NEW Adventures! This week is exceptionally exciting! ~New Artwork filled with bright spring-inspired YELLOW (my favorite). ~WILD new adventures (both inward and physically...I'll very literally be taking one step at a time). I am running my first 50k in Monument Valley, AZ THIS Saturday! "Once a year, go someplace you've never been before."  Dali Lama I'm going!  New place (Monument Valley) and plenty of new adventures await... I am overflowing with nervous excitement and anticipation...this painting filled with light and a dash of chaos feels like my inner self. My honest reasons for taking on this...