• art • art and fun • art and wine • art-making • artist in residence • Be Original. Buy Original. • bozeman • Dear Universe • Get out • goals • inspiration • Made in MT • McGree • Monument Valley • MT • Night Out • own it • paint • party • quotes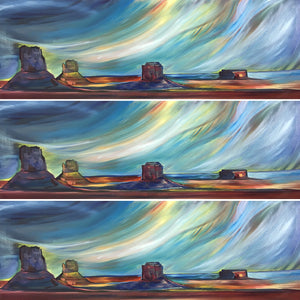 "If you have good thoughts, they will shine out of your face like sunbeams and you will always look lovely."  -Ronald Dahl Another FULL week! The grass is greener, the trees are sprouting!  We are all celebrating the start of a beautiful, warm, spring in Bozeman, MT!  :) :) :)  I can't wait to get outside to paint!  I am almost set-up, so expect some paintings en plein air next blog! This past week I started a few new paintings, finished one Monument, and had a great time collaborating with students at Hawthorne Elementary to paint their Cornhole boards for...
---
• adventure • bozeman • MT • paint • quotes • run • Sky
New Week, New Artwork AND NEW Adventures! This week is exceptionally exciting! ~New Artwork filled with bright spring-inspired YELLOW (my favorite). ~WILD new adventures (both inward and physically...I'll very literally be taking one step at a time). I am running my first 50k in Monument Valley, AZ THIS Saturday! "Once a year, go someplace you've never been before."  Dali Lama I'm going!  New place (Monument Valley) and plenty of new adventures await... I am overflowing with nervous excitement and anticipation...this painting filled with light and a dash of chaos feels like my inner self. My honest reasons for taking on this...