• art • art and wine • art at dinner parties • art-making • bozeman • Celebration of the Arts • creative • Dear Universe • goal • Great Beginnings • Hawthorne Elementary School • inspiration • McGree • montana • Montessori • Monument Valley • paint • party • Paw-Casso
"What you leave behind is not what is engraved in stone monuments, but what is woven into the lives of others."  -Pericles   What a busy week! New brushstrokes, new art lessons, LOTS going on! Let's begin with my own art practice this past week.  I continue to contemplate Monuments and how I want to represent them, how I feel about them. It's tricky because I don't want to JUST paint what I see.  I'm striving to share the soul of the place with you, the viewer.  These Monuments are beautifully warm and energetic landscapes...the dance between them, my brush,...
---
• art • art and fun • art and wine • art at dinner parties • art history • fine art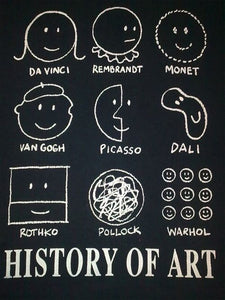 "We were all born artists, the trick, is to continue to be one when we grow up."  Pablo Picasso Beware of history and word origins, you might learn something! Our current definition of art is based on a Eurocentric view. "The modern use of art is derived from the 18th century philosophy of fine art and its focus on artworks that were largely created for wealthy elite, mainly the church and court (Brown and Dissanayaka)." Thus, "fine art" came to be known as an elite process whose product could only be obtained by a small percentage of the population. This is...