• aesthetics • art • art and fun • art-making • bozeman • creative • danielle laporte • faith • goal • grace • heart • life • listen • mind • patience • soul-satisfying • tony robbins • wisdom • yes
I am drawn to atmosphere and layers...in artwork, and in life.   Layers of questions, layers of color...overlapping and flowing together to create space. I am drawn to improvement of myself, my art, my everything.  At times, it's exhausting. On this Monday, I feel like I'm circling around a few messages and themes that the universe keeps bringing to my attention. Fear Doubt Faith Change Openness Potential Purpose Belief As with all learning and growth, seeking deeper understanding whenever I can is damn uncomfortable.  It's a dance of sorts, two steps forward and one step back.  Slow down to move fast....
---
• art • art and fun • art and wine • art at dinner parties • art history • fine art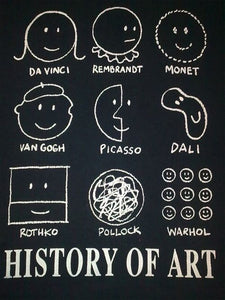 "We were all born artists, the trick, is to continue to be one when we grow up."  Pablo Picasso Beware of history and word origins, you might learn something! Our current definition of art is based on a Eurocentric view. "The modern use of art is derived from the 18th century philosophy of fine art and its focus on artworks that were largely created for wealthy elite, mainly the church and court (Brown and Dissanayaka)." Thus, "fine art" came to be known as an elite process whose product could only be obtained by a small percentage of the population. This is...