• art • art speak • art-making • bozeman • creative • Dear Universe • fine art • goals • inspiration • life • listen • mediate • Monument Valley • neuroaesthetics • paint • Painting • quotes • shine • slow is fast • yes
Contemplating Monuments "Go outside...amidst the simple beauty of nature...and know that as long as places like this exist, there will be comfort for every sorrow, whatever the circumstances may be."  Anne Frank My life has been a whirlwind of teaching, traveling, and art-business these last few weeks.  But I have finally found my way back to the easel.  Not nearly enough hours with paintbrush in hand, YET!  But space, time, and contemplation are a part of the painting journey. [gallery ids="1481,1482,1483,1484,1487,1476"] What is a MONUMENT?!     I often need Webster's help to dig up a simple definition...this one was...
---
• art • art and fun • art and wine • art at dinner parties • art history • fine art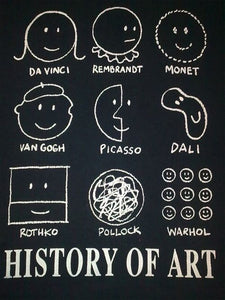 "We were all born artists, the trick, is to continue to be one when we grow up."  Pablo Picasso Beware of history and word origins, you might learn something! Our current definition of art is based on a Eurocentric view. "The modern use of art is derived from the 18th century philosophy of fine art and its focus on artworks that were largely created for wealthy elite, mainly the church and court (Brown and Dissanayaka)." Thus, "fine art" came to be known as an elite process whose product could only be obtained by a small percentage of the population. This is...